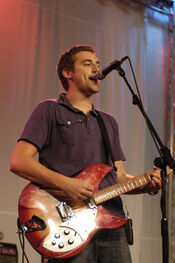 Tim Hughes is a Christian worship leader and songwriter, currently Director of Worship at Holy Trinity Brompton. He has previously led worhsip at Soul Survivor (along with other worship leaders) festivals and also leads Worship Central.
Worship Central
Edit
Worship Central is a school of worship run by Tim Hughes. The Worship Central vision is to "encounter God, equip the worshipper and empower the local church." Worship Central hold regular training event for worship leaders, hosts a website with information for worship leaders and produces podcasts.
Discography
Edit
Reward with Martyn Layzell (1999 Survivor Records)
Here I Am to Worship (2001, Worship Together Records)
When Silence Falls (2004, Survivor Records)
Dancing Generation (2005)
Holding Nothing Back (April 2007, Survivor Records)
Happy Day (March 2009, Survivor Records)
Ad blocker interference detected!
Wikia is a free-to-use site that makes money from advertising. We have a modified experience for viewers using ad blockers

Wikia is not accessible if you've made further modifications. Remove the custom ad blocker rule(s) and the page will load as expected.