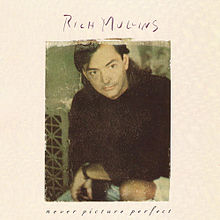 ---
Release Date: [[{{{Release Date}}}]]
---
Label(s):
---
Topic About This Album in Wikipedia:
---
Adds pages to the Master List of Stubs.
---
Never Picture Perfect is an album by Rich Mullins

. It was released in 1989 on Reunion Records.
Album Info
Edit
Producer

Reed Arvin

Executive Producers

Michael Blanton
Terry Hemmings

Engineer

Bill Deaton

Additional Engineer

Brent King

Mastered by

Hank Williams (Master Mix, Nashville, Tennessee)

Mixed at

Digital Recorders (Nashville, Tennessee)

Recorded at

OmniSound Recording Studio (Nashville, Tennessee)
Big Dog Studio (Wichita, Kansas)
The Pond (Franklin, Tennessee)

String Arrangements by

Reed Arvin

Art Direction and Design by

Jackson Design

Photography by

Mark Tucker
Instrument Credits
Edit
Piano

Rich Mullins

Keyboard

Reed Arvin

Guitar

Jerry Mcpherson
Tom Hemby

Bass Guitar

Jimmy Lee Sloas
Danny O'Lannerghty

Fiddle

Mark O'Connor

Hammered Dulcimer

Rich Mullins

Mandolin

Jerry McPherson
Mark O'Connor

Drums

Paul Leim

Harmonica

Bill Sinclair

Saxophone

Ed Calle
Lead Vocalists
Edit
Rich Mullins
Ashley Cleveland
Pam Tillis
Background Vocalists
Edit
Marty McCall
Bonnie Keen
Marabeth Jordon
Margaret Becker
Chris Rodriguez
Guy Penrod
Richard Gibson
Jon Sherberg
Donny Monk
Gary Smith
Track Listing
Edit
Radio singles
Edit
| Year | Single | Position |
| --- | --- | --- |
| 1990 | "My One Thing" | 1 for 6 weeks |
| 1990 | "While the Nations Rage" | 2 |
| 1990 | "Alrightokuhuhamen" | 4 |
| 1991 | "Somewhere" | 8 |
Ad blocker interference detected!
Wikia is a free-to-use site that makes money from advertising. We have a modified experience for viewers using ad blockers

Wikia is not accessible if you've made further modifications. Remove the custom ad blocker rule(s) and the page will load as expected.