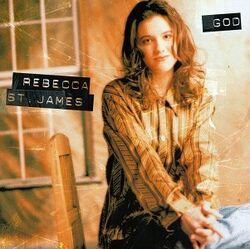 ---
Release Date: [[{{{Release Date}}}]]
---
Label(s):
---
Topic About This Album in Wikipedia:
Album credits
Edit
Produced By

Tedd T.

Executive Producers

Dan R. Brock, Eddie DeGarmo

Recorded By

Tom Laune, Tedd T., Julian Kindred, Paul Salvo at 9070 Studios, Brentwood, TN

Recording Assisted By

Peter Briggs, Greg Parker, Shane Wilson

Mixed By

Chuck Zwicky at Secret Sound, Franklin, TN., Recording Arts-Nashville, TN., Gambit Studios-Gallatin, TN., and 9070 Studios-Brentwood, TN.

Mixing Assisted By

Chuck Linder, Daryl Smith, Julian Kindred.

God

♫

Mixed By

John Hampton, Skidd Mills at Ardent Recordings, Memphis, TN

Mastered By

Ken Love at MasterMix

Photography By

Jeff Frazier

Make-up By

Geenie Freeman

Art Direction

Tom Davis at East West Design
Drums/Percussion

Dan Needham

Bass/Electric Guitar/Percussion

Brent Milligan

Bass/Electric Guitar

Otto Price

Steel and Electric Guitars

Vince Emmett

Acoustic Guitars

David Cleveland

Fender Rhodes/Piano/Bass/Harmonica/Percussion/Programming

Tedd T.

Irish Flute/Didjeridoo/Illian Pipes

Hunter Lee

String Arrangements/Accordion/Mellotron

Carl Marsh

Additional Guitars on You're The Voice

♫

Chuck Zwicky

Additional Background Vocals On Go And Sin No More

♫

Micah and Lori Whilshire, Paul Q-Pek, Tina Keil

Guest MC On Carry Me High

♫

Josh Smallbone

Arrangements By

Tedd T., Rebecca St. James

All Vocals Performed By

Rebecca St. James
Ad blocker interference detected!
Wikia is a free-to-use site that makes money from advertising. We have a modified experience for viewers using ad blockers

Wikia is not accessible if you've made further modifications. Remove the custom ad blocker rule(s) and the page will load as expected.