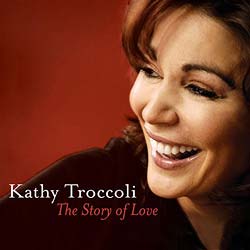 ---
Release Date: [[{{{Release Date}}}]]
---
Label(s):
Independant
---
Artist's Page for this album
---
Adds pages to the Master List of Stubs.
---
This album is missing vital information.
If you have that data, please provide that and remove this template.
---
Missing Data:
We have no credits information for this album
Quote From the Artist's Website About This Album
Edit
Source:  http://win05.startlogic.com/kathytro/viewitem.asp?proid=1
Attribution:  Kathy Triccoli

Some of you may know that I have been producing my own CD's the last several years. They are on my own label but are distributed by Provident Distribution. I have been so blessed to truly have a major impact in how the record sounds, what songs are on it and the overall concept of each CD.

The one thing that is very different at this time of my life is that I am choosing the songs and the concept of each recording carefully. What is very consistent and a thread through all of them is that artistically I am so at home. I am singing more in what I would choose to call the "velvet" range and not the higher pop range. The songs are more sophisticated in arrangement and I am not trying to sing anything because someone says I should—I am singing them because I feel like that is what I should be doing right now and also what I am imagining you would love to hear from me.

The Story of Love is like a dance I have been waiting to perform for a long time. Full of melodic beauty and heart lyrics, some of the songs melt me and leave me in a big puddle. Music is so powerful and I continue to want to use this gift to fill your sails with hope and give your heart a lift.

On any given day I still marvel at the supernatural love of God. It is constant, surprising and full of grace. It is all around us. Somehow, it transcends our pain and increases our joy. It dances on the smiles of children, sparkles in the eyes of lovers and beckons through the prayers of God's people. It fills our journey with hope and beauty and invades our sorrow reminding us that we serve an amazing God.

This is a project that touches upon different dimensions of love—which is God's greatest gift. I hope you will celebrate my heartfelt expressions of both the earthly and divine manifestations of this miracle that is still unfolding in all of our lives.

That's the glory of…and the story of love.

This work is copyrighted. The individual who uploaded this work asserts that this qualifies as fair use of the material under United States copyright law.
Ad blocker interference detected!
Wikia is a free-to-use site that makes money from advertising. We have a modified experience for viewers using ad blockers

Wikia is not accessible if you've made further modifications. Remove the custom ad blocker rule(s) and the page will load as expected.