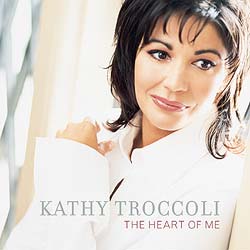 ---
Release Date: [[{{{Release Date}}}]]
---
Label(s):
---
Artist's Page for this album
---
Adds pages to the Master List of Stubs.
---
Quote From the Artist's Website About This Album
Edit
Source:  http://win05.startlogic.com/kathytro/viewitem.asp?proid=5

Singer, songwriter, author, and speaker, Kathy has emerged over the years as a multi-talented entertainer, communicator and encourager to Christians around the world. She is an inspiration to hundreds of thousands of women every year through various women's events. She is in great demand as both a speaker and singer at conferences around the world as she continues to share one message... "Jesus Christ is our hope and our life."

The theme of "hope" is a constant throughout her thirteenth album for Reunion Records, The Heart of Me. Paired once again with award-winning producer and songwriter, Nathan DiGesare (Corner of Eden), Kathy continues to demonstrate her ability to wrap deep content in wonderful melodies that carry God's message of hope straight to the heart.

With DiGesare's well-developed pop sensibilities, the overall musical direction of this new album leans more adult contemporary than the inspirational feel of Love has a Name. The result is like a breath of fresh air as Kathy shows once again why she is still one of Christian music's most popular artists.

This work is copyrighted. The individual who uploaded this work asserts that this qualifies as fair use of the material under United States copyright law.
This album is missing vital information.
If you have that data, please provide that and remove this template.
---
Missing Data:
We have no credit information for this album
Ad blocker interference detected!
Wikia is a free-to-use site that makes money from advertising. We have a modified experience for viewers using ad blockers

Wikia is not accessible if you've made further modifications. Remove the custom ad blocker rule(s) and the page will load as expected.