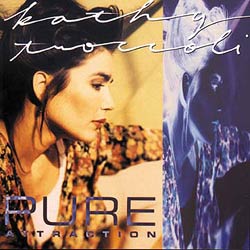 ---
Release Date: [[{{{Release Date}}}]]
---
Label(s):
---
Artist's Page for this album
---
Adds pages to the Master List of Stubs.
---
Quote From the Artist's Website About This Album
Edit
Source:  http://win05.startlogic.com/kathytro/viewitem.asp?proid=52

After a five-year absence in Christian music, Kathy returns in 1993 with one of the most successful crossover releases, Pure Attraction. Christian to mainstream crossovers were rare in 1991. But when the first single from Pure Attraction, Everything Changes♫, became a smash hit on pop radio, Kathy was suddenly all over television and radio. Pure Attraction scored several other top Christian radio hits. During her hiatus, Kathy developed her songwriting abilities as she wrote six of the ten songs on this project.

This work is copyrighted. The individual who uploaded this work asserts that this qualifies as fair use of the material under United States copyright law.
This album is missing vital information.
If you have that data, please provide that and remove this template.
---
Missing Data:
We have no credit information for this album
Ad blocker interference detected!
Wikia is a free-to-use site that makes money from advertising. We have a modified experience for viewers using ad blockers

Wikia is not accessible if you've made further modifications. Remove the custom ad blocker rule(s) and the page will load as expected.