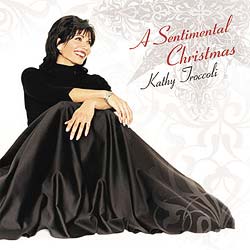 ---
Release Date: [[{{{Release Date}}}]]
---
Label(s):
---
Artist's Page for this album
---
Adds pages to the Master List of Stubs.
---
This album's Christian content is questionable
Most of this album's content is secular winter time music. It is tough to call it "Christmas Music" when no reference to the holiday or to Christ is made. One song does refer to Christmas in the name, but that is the secular version of the holiday rather than the religious version.

As such, A Sentimental Christmas

is only listed here due to a handful of songs.
Quote From the Artist's Website About This Album
Edit
Source:  http://win05.startlogic.com/kathytro/viewitem.asp?proid=12

A Sentimental Christmas is Kathy's first and only Christmas album. If you listen close, you can hear the nostalgia, the heritage, the culture of the romantic '40's. This big band project features the duet of Kathy with Andy Williams singing It's The Most Wonderful Time Of The Year♫.

The album's only original song, Only Always♫ was co-written by Kathy and longtime friend Jeff Franzel. Images of a crackling fireplace, steaming mugs of hit cider, snowflakes falling and white Christmas lights glistening inspired these lyrics.

This work is copyrighted. The individual who uploaded this work asserts that this qualifies as fair use of the material under United States copyright law.
This album is missing vital information.
If you have that data, please provide that and remove this template.
---
Missing Data:
We have no credit information for this album
Ad blocker interference detected!
Wikia is a free-to-use site that makes money from advertising. We have a modified experience for viewers using ad blockers

Wikia is not accessible if you've made further modifications. Remove the custom ad blocker rule(s) and the page will load as expected.