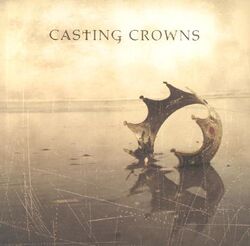 ---
Release Date: [[{{{Release Date}}}]]
---
Label(s):
---
Adds pages to the Master List of Stubs.
---
This album is the first album released by this artist or group. As such, it is called a Debut Album

.
Album Information
Edit
Produced By

Mark A. Miller

Executive Producer

Terry Hemmings

Photography

Russ Harrington

Album Styling

Stephanie McBrayer

Hair & Make-up

Lorrie Turk

Art Direction

Stephanie McBrayer & Tim Parker

Graphic Design

Tim Parker
Members as of This Album
Edit
DVD Contents (included with the DualDisc version) Edit
Entire Album in 5.1 Surround Sound and PCM Stereo (no video)
Behind the Scenes Interviews
American Dream

♫

music video (no other music videos provided)
Live Concert Footage of Who am I

♫

The Stories Behind Lifesong

♫

(which was already in production when the DualDisc version was made)
DualDisc Warning!
At least some copies of the CD version of this album are in DualDisc format. This means that some CD players, and even some DVD players, may not be able to read the CD side of the disc.

It is recommended that you find a player that can read the CD side of the disc and rip it. Then burn a new copy. You then store the original in case something bad happens to the copy. You then play only the copy.


However, NEVER ever attempt to sell the original unless you also sell the same person all of you copies. If you attempt to keep any originals, you could open yourself up to a very expensive lawsuit.
Casting Crowns
Members:
Mark Hall

| Juan Devevo

| Melodee Devevo

| Hector Cervantes

| Andy williams

| Chris Huffman

| Megan Garrett


Albums: Casting Crowns 

| Live from Atlanta 

| Lifesong 

Lifesong Live 

| The Altar and the Door 

| The Altar and the Door Live 

| Peace On Earth 

Ad blocker interference detected!
Wikia is a free-to-use site that makes money from advertising. We have a modified experience for viewers using ad blockers

Wikia is not accessible if you've made further modifications. Remove the custom ad blocker rule(s) and the page will load as expected.