General Information on Barry McGuire
---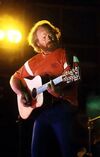 ---
Official Artist Website
---
Last Known Label(s)

Independant (not signed)
---
1st Recording Released In:
1973
---
Topic About Barry McGuire in Wikipedia:
---
Adds pages to the Master List of Stubs.
---
Barry McGuire also released many albums before becoming a Christian. Some of those were as part of the New Christy Minstrels

. You can see a full list of those at his Wikipedia page.
†Duets with Terry Talbot

; see Terry Talbot and Barry McGuire
Notable Songs Over the Years
Edit
Other images
Edit
Uploaded from [href=http://www.trippinthesixties.com www.trippinthesixties.com].
Uploaded from www.barrymcguire.com.
Related Websites
Edit
Ad blocker interference detected!
Wikia is a free-to-use site that makes money from advertising. We have a modified experience for viewers using ad blockers

Wikia is not accessible if you've made further modifications. Remove the custom ad blocker rule(s) and the page will load as expected.