Ad blocker interference detected!
Wikia is a free-to-use site that makes money from advertising. We have a modified experience for viewers using ad blockers

Wikia is not accessible if you've made further modifications. Remove the custom ad blocker rule(s) and the page will load as expected.
General Information on Audio Adrenaline
---
[[Image: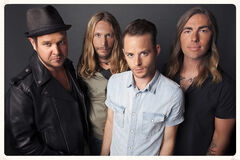 |100px|center]]
---
Official Artist Website
---
Last Known Label(s)
---
1st Recording Released In:
1992, 2013
---
Topic About Audio Adrenaline in Wikipedia:
Audio Adrenaline is a four-piece band.
Current Members
Edit
Adam Agee: vocals
Brandon Bagby: bass, vocals
Jack Campbell: drums
David Stovall: guitar, vocals
Former Members
Edit
Mark Stuart: vocals, guitar
Tyler Burkum: guitar, vocals
Ben Cissel: drums
Bob Herdman: keyboards, vocals
Jason Walker: keyboards, vocals
Dave Ghazarian: guitar
Kevin Max: vocals, guitar
Josh Engler: vocals, guitar, keyboards
Will McGinniss: bass
Jared Byers: drums
Dwayne Larring: guitar
Discography
Edit
Notable Songs over the Years
Edit
Audio Adrenaline
Members: Mark Stuart | Will McGinniss | Tyler Burkum | Ben Cissel


Albums: Live Bootleg 

| Don't Censor Me 

| Audio Adrenaline 

| Bloom 

| Some Kind of Zombie 

| Underdog 

| Lift 

| Hit Parade 

| Worldwide 

| 8 Great Hits 

| Until My Heart Caves In 

| Adios - The Greatest Hits 

| The Ultimate Collection 

http://christianmusic.wikia.com/index.php?title=Template:Audio_Adrenaline&action=edit Edit this page